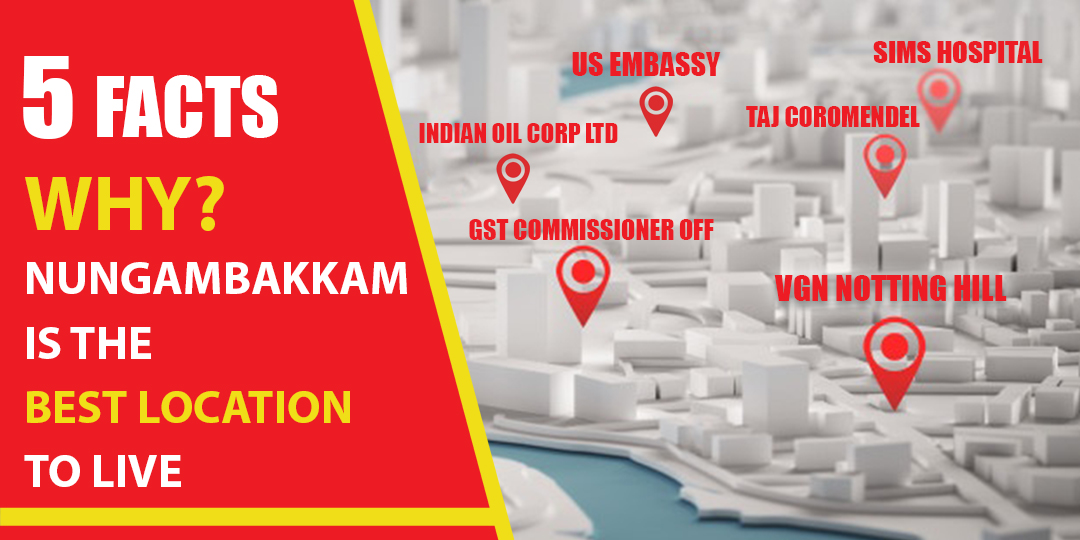 October 7, 2020
With some of the eminent landmarks of the city located in Nungambakkam, it can very well be termed as a prominent hub for all of Chennai. From shopping, dining, and sports, to green zones, arts and ongoing events, Nungambakkam has got it all covered. The following are the top five facts as to why settling down in a Nungambakkam residence is a luxurious deal for the family.
Ease of Connectivity: Accessibility to Nungambakkam is seamless, with the airport just 40 minutes away, the metro and electric railway line connecting Nungambakkam with other parts of the city and most MTC buses passing by this place. The neighboring locations namely T.Nagar, Kodambakkam, Chetpet, Egmore and Kilpauk are some of the busiest commercial areas in Chennai, which is why Nungambakkam is without a doubt, one of the major hotspots in the city!
Assorted Recreation Amenities: Nungambakkam is also home to nurturing green spaces like the Valluvar kottam and Semmozhi Poonga. Not to mention it is also one of the lovely destinations for food outlets, be it to dine in style at GRT, Taj and Toscano or breaking for a coffee at Starbucks. The much-acclaimed Khader Nawaz Khan Road in Nungambakkam remains the evergreen elite shopping indulgence for anyone in Chennai with the exclusively curated Bergamo mall with premium brand outlets to independent boutiques like Naturally Auroville and Silkworm. With some of the topmost event venues like Sir Mutha Venkatasubba Rao Concert Hall and Museum Theatre, famous art galleries like Apparao and The Faraway Tree, sporting establishments namely SDAT Tennis Stadium and Sterling Club in the vicinity, live performance events involving arts, sports, music, dance and theatre are recurrent happenings here.
Reliable Health Care Solutions: With reputed multi and super-speciality hospitals, Chennai is known as the health capital of India. Nungambakkam is no exception and has first-class medical facilities run by both the government and private organizations. Some of the leading healthcare facilities in the area include CG hospitals, SIMS hospitals, BRS hospitals, Sankar Nethralaya and Dr. Aggarwals.
Premier Educational Facilities: Nungambakkam is well known for some of the renowned list of schools and colleges in Chennai which is also the reason one needs to have no second thought in planning to settle down with a family here. The Good Shepherd Higher Secondary Matriculation school and Padma Seshadri Bala Bhavan are two A-list schools parents yearn to put their kids in. Loyola College, MOP Vaishnav college and Women's Christian College are some of the celebrated colleges across the country for any aspiring arts students.
Promising Better Returns: With Chennai being listed as one of the top 12 destinations in India for real estate investments, investing in a prime zone like Nungambakkam will enhance the profitability of the property by a significant percentage. Looking at the current scenario of major bookings of houses and plots in Chennai which have mostly been reported for investment purposes reconfirms this fact.
So, what are you waiting for when now is the best time to buy your magnificent dream home at a splendid location like Nungambakkam with all the essential amenities and luxuries within reach. If you are already on the lookout for the same, VGN Notting Hill is one of the captivating premium properties located in Nungambakkam with all splendid amenities and perfection!
For more information Kindly Fill in